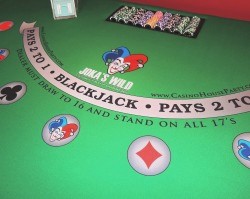 Blackjack
Blackjack is one of the most popular and simple casino table games. Also known as "21," this game is a virtual "must have" at any casino party! Up to seven players at a time can try their luck against our friendly dealers — who can teach you all the ins and outs of splitting pairs, doubling down and playing like a seasoned card shark!
---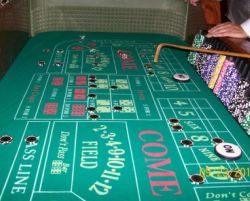 Craps
Craps is an exciting, fast paced and action packed game using a pair of dice. No other game in the casino generates as much cheering, high-fiving and camaraderie, because when the dice are hot, everyone at the table wins together! Even first-timers have a blast at a Joka's Wild craps table, as our dealers make the "complicated" table layout easy to understand for your casino party guests.
---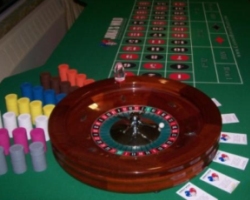 Roulette
Roulette is one of the easiest games to play and understand in the whole casino. If you have a favorite lucky number this is the game for you, as you'll have a new chance to win with every spin of the wheel! There are many exciting ways to bet and win on our casino-quality Roulette table — and our helpful dealers will make sure you and your casino party guests can easily learn them all.
---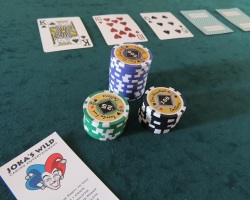 Texas Hold-em
The incredible popularity of the televised World Series of Poker has made Texas Hold-em a casino phenomenon! Now you can bring that excitement to your casino party, as you and your guests go "all in" on our full-sized, 9-player tables. Whether you're a beginner or an experienced player, you'll be sure to have a great time!
---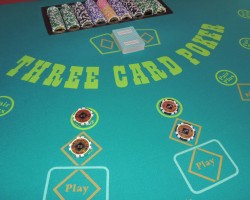 Three Card Poker
This relatively new game is quickly becoming one of the most popular games in the casino, as players discover that it's not only easy to play but a lot of fun! Three Card Poker is actually two games in one, as you can play your hand against the dealer, and also wager on whether or not you'll be dealt a pair or better. With our friendly dealers running the show, you'll be playing like a pro in just a few hands!
---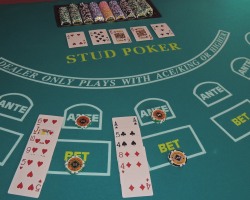 Caribbean Stud
If you don't find it easy to hold a "poker face," Caribbean Stud can be the ideal game for you and your casino party. This fun and easy-to-learn game has you playing only against the dealer — and because there's never a need to bluff, you can cheer that Royal Flush the moment it's dealt to you!
---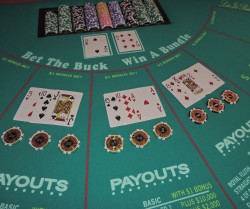 Let it Ride
This easy, exciting game was introduced in casinos less than 20 years ago – but it's already a big favorite! Because players are not playing against each other or trying to beat the dealer, camaraderie develops quickly among players at your casino party, creating a fun atmosphere for all. A pair of tens or better makes you a winner and very strong hands earn huge payouts!
---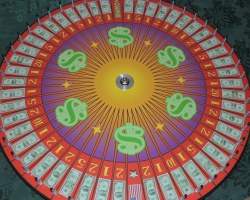 Money Wheel
Always sure to gather a crowd, Joka's Wild Money Wheels add their fair share of fun and excitement to any casino party! Eager anticipation builds each time the wheel slows and your winning spot approaches… where will it stop? This casino staple is also known as the Big 6 Wheel or the Wheel of Fortune, but no matter what you call it, you and your guests will have a blast!
---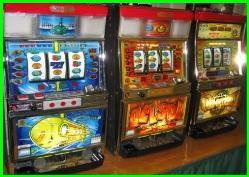 Casino Slots
Nothing beats the rush of seeing the winning images line up on your slots wheels, and hearing that river of metal coins pouring into your tray! Joka's Wild electronic slots machines provide casino-quality gaming fun, and add that authentic Vegas feel to your casino party!