Casino parties are a great way to "mix things up" from the usual party. Turning your home into a casino for a night can be a lot easier than you might think — and a lot more fun than you might expect! Follow the tips below to make sure your casino house party is a hit.
Book the right number of casino tables.
For a private casino party at your home (or at your office or catering hall), you should have enough tables for roughly half of your guests to be playing at any one time. This is because at most casino house parties, your guests will also be eating, socializing, dancing, etc. Of course, you know your guests better than anyone — and your party may or may not have entertainment besides the casino fun — so you can adjust this "50%" rule to meet your needs. The goal is to make sure you don't pay for more tables than your casino house party really needs!
Choose the right casino games for your crowd.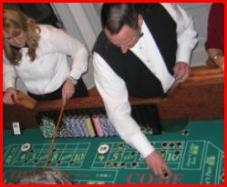 While planning your casino house party, try to get an idea of what games your guests prefer to play beforehand. A typical party includes Blackjack, Roulette and Craps, but your guests may prefer a Texas Hold-em table (or two!), or some of the more recently introduced casino games such as 3-Card Poker, Let it Ride and Caribbean Stud. Perhaps your guests will prefer the simplicity and excitement of Slot Machines or the Money Wheel – it's up to you!
Think about your Casino House Party layout.
Make sure you have enough space to comfortably fit all of the casino tables, with room for your guests to move about easily! Keep in mind that all of the tables do not necessarily need to be in the same room. We often provide casino house parties in which the hosts ask us to set up some tables in the living room, some in the den, some in the finished basement — clients have even asked us to set up tables in their finished garage! As a loose guide, consider that smaller table games like Blackjack, 3-Card Poker and Roulette need approximately 80 square feet of space; larger tables such as Craps and Texas Hold-em need roughly 100 square feet for comfortable playing.
Specify seated or standing casino tables.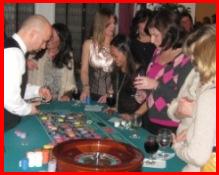 Choosing the right type of tables for your casino house party comes down to knowing your guests. For younger crowds where you expect a lot of moving back and forth between the different casino table games, standing tables would be your better choice — and give more of an exciting casino feel. For older crowds, seated tables may make the night more enjoyable. Keep in mind that some tables (such as Craps) may not offer seating options — find out what your options are from your casino house party provider.
Set the perfect Casino House Party tone!
Giving your casino house party an awesome Las Vegas feel starts with your party invitations. There are plenty of Vegas-themed invitations available online or at your local party store. Whether you're hiring a deejay, a band, or just relying on your stereo, upbeat music sets the ideal tone for a real casino feel — mix in some Vegas-inspired tracks like "Viva Las Vegas" by Elvis and "Luck Be a Lady" by Sinatra (in fact, anything by the "Rat Pack" that Sinatra used to roll with would be a great choice!) Remember to keep the music to background levels, so the dealers and your guests can hear each other. Lastly, you can find a ton of Vegas-inspired decorations and accessories for your casino house party, both online and at your local party store.
Choose a reputable Casino House Party provider!
Joka's Wild Casino Entertainment is known as Long Island's best value in casino parties. We make sure at least one of our two owners is at your party from setup to cleanup, to ensure that your casino house party is one that your guests will remember — for all the right reasons — for years to come. From our friendly, professional dealers, to our Las Vegas-inspired casino tables, to our casino-quality 14-gram clay chips, to our responsiveness to your every question or concern, our goal is to make your casino house party a hit — and to make you look GREAT!