Whether you're looking to reward your employees, impress your clients, have more excitement than a typical office party or all of the above, a Joka's Wild casino party is the way to make it happen. From our Vegas-inspired equipment to our friendly and professional dealers, to the personal attention you'll receive from your first phone call until your event is complete, our focus is on making sure your casino themed event is an absolute success.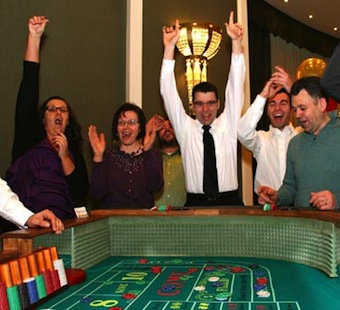 A casino theme party makes great business sense.
Everyone's been to the typical company party where the whole crew goes out to dinner, has a drink or two and makes the same old small talk while constantly checking their watches. Forget about that silliness and throw a company party that nobody will want to end! With Joka's Wild providing everything you need for your casino action, your employees play together, laugh together, trade high-fives and cheer loudly together – it's team-building and camaraderie at its best!
Go with the Long Island Casino Party experts.
Joka's Wild is a Long Island business through and through. We grew up here. We live here. And we serve clients here – and here only. Unlike other companies who focus on NYC or the tri-state area and treat Nassau and Suffolk like an afterthought, we focus exclusively on serving Long Islanders. Give us a call, and discover how affordable – and how rewarding – a Joka's Wild Casino Party can be for your company.